2018 July Land O'Lakes Conference Recap
The 19th Annual Land O'Lakes Bioanalytical conference held in partnership with AAPS took place July 9-12 at the Fluno Center on the University of Wisconsin-Madison Campus. The theme was "Emerging Therapeutic Paradigms: Supporting the Next Generation of Biomarker and Bioanalytical Research and Understanding the Shifting Regulatory Landscape." This year's conference chair was Lakshmi Amaravadi, PhD, Global Head of Bioanalytical & Biomarker Development at Shire.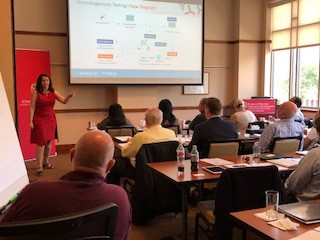 A short course called "Navigating Bioanalytical Assay Requirements and Issues in Support of Biosimilar Development" preceded the start of the conference on Monday afternoon. The three lectures covered how to approach bioanalysis, PK assays, and immunogenicity assays of biosimilars led by Eric Fluhler, PhD, Dominique Gouty, PhD, Ron Bowsher, PhD, and Todd Lester. If you missed these courses and want to learn more about biosimilars, check out our online course.  
The conference officially began Monday night with an opening dinner reception on the top floor of the Fluno Center. Laura Sepp-Lorenzino, PhD, of Vertex Pharmaceuticals gave a presentation on "Emerging Modalities of Gene Therapy." She demonstrated how genetic medicine will open the door to treat many non treatable conditions. She outlined the wide variety of mechanisms for genetic medicine along with their challenges and explained the need for new assays for these emerging gene therapies. 
Biomarkers have been labeled as vital to the 'precision medicine' of the future but they are also incredibly useful for drug development. Tuesday morning began with a session on the use of Biomarkers in Drug Development. This session covered qualification guidance along with examples on how to use biomarkers to study mechanisms such as drug metabolism and the status of transporters.
The Tuesday afternoon session "Emerging Modalities: From Gene Therapy to Nanoparticles" covered some exciting new research in the biologic realm. Shyam Sarikonda, PhD, from Navigate BioPharma Services gave an intriguing talk on CAR-T cell characterization in clinical trials. He demonstrated how flow cytometry is a valuable tool for CAR-T cell trials. Other topics covered in this session were siRNA, nanoparticles and proteomic and genomic biomarkers.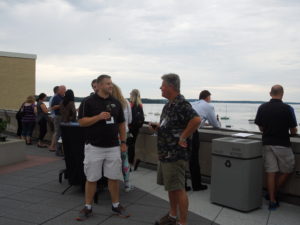 After a long day, attendees enjoyed a reception on the rooftop of the Pyle Center overlooking Lake Mendota. They networked and snacked on appetizers while enjoying a beautiful view of sailboats and the sun setting over the lake.
Wednesday morning's session covered "Emerging Bioanalytical Challenges, Solutions and Harmonization of BA Guidance." Faye Vazvaei, MS, from Roche reflected on the recent FDA guidance in her lecture on "Global Harmonization of Bioanalytical Method Validation -ICH M10." She discussed AAPS' upcoming guidance on bioanalytical method validation and how it goes hand in hand with the FDA's Bioanalytical Method Validation: Guidance for Industry.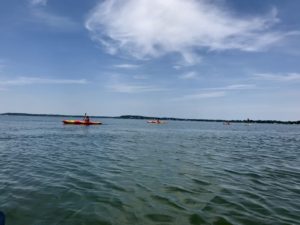 Attendees took a break on Wednesday afternoon to partake in one of three activities: a trolley tour of UW-Madison campus, a tour of the Chazen Art Museum or paddling on Lake Mendota. The trolley group ventured through downtown Madison and campus seeing the Capitol Building, State Street, Monona Terrace, Bascom Hall and many other campus buildings. They made stops at the Memorial Union on Lake Mendota and the Babcock Creamery where the famous Babcock ice cream is made. The group at the Chazen Art Museum enjoyed it's three floors of various types of exhibits including contemporary art. The paddling group picked up paddle boards and kayaks from the Hoofers Outdoor Club at Memorial Union and paddled along the shoreline of Lake Mendota. It was a beautifully calm, sunny day for paddling that all enjoyed.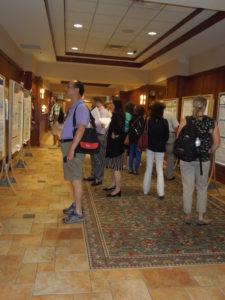 On Wednesday afternoon there was a poster session and tech showdown where attendees presented their work to others at the conference. Attendees voted on the poster and tech talk that most impressed them. Patrick Breslin from Janssen Research & Development, won best poster titled "Qualification of an Ultrasensitive Non-Clinical Pharmacokinetic Assay for a Biologic in Presence of Interfering Target Using the Quanterix Simoa HD-1 Platform." John Sausen, MBA, of Agilent Technologies won the tech showdown with his talk on "Targeted Pathway-directed Analysis in Multi-omics Research."
The "Ask a Regulator" session on the recent  FDA Bioanalytical Method Validation: Guidance for Industry was a hot topic on Thursday morning. Attendees had many questions for the FDA representatives and discussions on interpretation of the latest guidance. They covered sample tracking, monitoring drift in bioanalytical assays, parallelism, and sample dilutions just to name a few. This session was tremendously useful for attendees and FDA representatives alike. This conference will aim to focus on this again next year.
At the end of the conference, attendees voted on what they would like to focus on next year. Some of the high demand topics in consideration are: regulatory guidance, new technology and multi-omics. Thank you to all speakers and attendees for sharing exciting material and having productive discussions. We look forward to next year!
We thank our sponsors
Educational Grants Provided by:

Check out our upcoming conferences:
58th Annual August Pharmaceutical Analysis