Analytical Considerations for a Comprehensive Control Strategy
Developed & Conducted by the Division of Pharmacy Professional Development, School of Pharmacy, University of Wisconsin-Madison.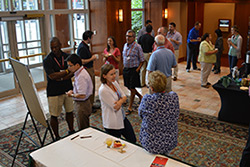 The Land O'Lakes Conferences are recognized worldwide as one of the premier teaching conferences for pharmaceutical scientists. The 58th Annual Land O'Lakes Pharmaceutical Analysis Conference is a three-day conference focused on the application of analytical techniques to pharmaceuticals. This insightful, interactive annual gathering is an excellent way to advance your knowledge base and network with colleagues from around the globe.
Second Annual August Devil's Head Memorial Golf Outing
For those who enjoyed the golf when the Land O'Lakes Conference was offered at the rustic Devil's Head Resort; there is now a chance to bring back fond memories and join other former partners for the second annual golf outing being offered immediately prior to the start of the conference on Monday afternoon at Pleasant View Golf Course  http://www.golfpleasantview.com/

 For more information on the Golf Outing contact Jim De Muth at james.demuth@wisc.edu.