PK-PD Course Gets a Makeover
Meet Leslie Dickmann, the program director adapting our PK-PD program to the new times
Since the start of the SARS-CoV-2 outbreak, many professional gatherings have been either canceled or switched to virtual settings. For us at DPPD, the pivot to online instruction also presented an opportunity to revamp our programs, and find ways to make the best out of this new reality.
Leslie Dickmann, a Wisconsin native and our newest program director, has made key changes to our PK-PD course to accommodate pandemic requirements. Before coming to UW-Madison, Dickmann worked for 14 years in drug metabolism, pharmacokinetics, and clinical pharmacology in the pharmaceutical industry. She was also routinely involved in translational PK-PD work scaling from preclinical models to predictions in humans.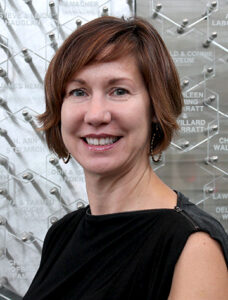 One major change in the PK-PD short course is instructors. "Professor Burnette was an absolute legend teaching this course on his own for so many years, but he is getting a well-deserved break!  Dr. Lim, Dr. Guttendorf, and I have big shoes to fill," Dickmann said. Leslie has worked as a PK-PD lead on early clinical development programs and designed many clinical pharmacology studies.
Visit our course page to learn more about PK-PD's new instructors.
The course will teach PK basics, but it will also incorporate other PK-related topics relevant to scientists working in the pharmaceutical industry. Unlike past years, the PK-PD course will be fully online in 2021.
"Although we will miss meeting everyone in person, we hope that this change will allow more individuals to attend since it does not require a trip to Madison." 
Giving the PK-PD course a makeover has been a welcome challenge for Dickmann, as she certainly enjoys teaching and curriculum development. "Witnessing the curiosity and excitement of students keeps me young."
Dickmann, who holds an MPH in Applied Epidemiology from Emory University, and a PhD in Medicinal Chemistry from the University of Washington, is well aware of the difficulty of holding participants' attention while teaching online, so the PK-PD course this year will be split into digestible chunks over several weeks to avoid Zoom fatigue.
While the PK-PD course may not be offered in person this year, it will keep all the fundamental features that have made it a success. This program will especially benefit those who lack confidence in their PK-PD knowledge or think they could use a refresher. Likewise, if you're looking to strengthen relationships and work more productively with your PK-PD colleagues, this course is for you.