2018 June Land O' Lakes Conference Recap
The 60th Annual Land O' Lakes Formulation Development & Drug Delivery Conference focused on continuous manufacture (CM) from drug substance to drug products. Attendees enjoyed engaging discussion on continuous manufacture and valuable networking at this event. The topic was quite focused but covered a variety of concepts in CM including Active Pharmaceutical Ingredient (API), drug product, direct compression, wet granulation, co-processing and regulatory perspectives. The conference took place at the Fluno Center on the University of Wisconsin-Madison campus.
Eyal Barash, of Barash Law, started off the conference with an educational and entertaining look at pharmaceutical patent law at the opening dinner. He gave the attendees a lesson in contracts and intellectual property 101, along with anecdotes of past misunderstandings with intellectual property. Barash's jokes and stories delighted the crowd and all left with a better understanding of patent law.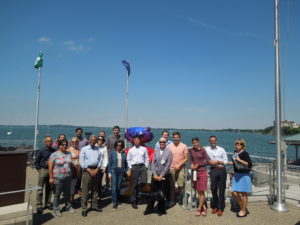 After a morning of learning about the current state of API CM and opportunities in CM, attendees took a break via a trolley tour of Madison and the UW campus. The tour visited the State Capitol Building, Monona terrace, many campus buildings, and the UW Hospital and Pharmacy School. They stopped at the Memorial Union, where locals frequently enjoy a brat and beer on Lake Mendota, and the historical and scenic Bascom Hill. Experiencing summer in Madison was a perfect way to relax between sessions.
Wednesday's topics dealt with formulation development of CM and process development, unit operation integration and control with drug products. Professor Johannes Khinast could not join the conference in person, however, he was able to speak remotely from Austria and gave a compelling overview of CM's progress in formulation development. Attendees had the opportunity to listen to multiple case studies and strategies from CM process development and manufacturing control. The international motif continued with a presentation by Professor Thomas De Beer from Ghent University in Belgium.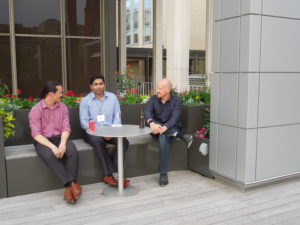 On the last night of the conference, attendees did some of their final networking at a reception on the lakeside deck of the Pyle Center. They enjoyed appetizers with a peaceful view of sailboats on Lake Mendota and the lush green Alumni Park as they continued to enthusiastically discuss the conference and their work. By the time the sun set over the lake, everyone could say they had met at least one new colleague.
The final session dealt with regulatory aspects of CM (including FDA perspectives) and a panel discussion. At the end of the conference, attendees noted that they were exceptionally pleased with the breadth of CM concepts covered and the accompanying discussions. They also felt they had made valuable connections because of the smaller conference environment. The high engagement of speakers and attendees made this conference a success. Stay tuned for details on 2019 Land O' Lakes conferences. 
Thank you to our sponsors 
Educational Grants provided by: 
Missed the 60th Annual Formulation and Drug Conference? We have three more conferences coming up:
19th Annual Bioanalytical Conference
58th Annual Pharmaceutical Conference