The Role of the Modern CMC Leader
In the outsourced model, the CMC leader must communicate effectively with different functions, and juggle varying incentives and priorities, while never missing sight of the ultimate goal: project success
Why Is CMC Leadership Important?
Chemistry, manufacturing and controls, or CMC, constitute a key part of any new pharmaceutical product application to the FDA. Before a drug can be approved, CMC gets a thorough review. The most fundamental goal of CMC is to ensure that the drug sold to the public will be consistently effective, meet appropriate quality standards, and guarantee that the drug taken by consumers is the drug described in the label.
Leadership of CMC project teams is of particular importance because the CMC technical section lives beyond drug approval. In this context, the "product" entails the entire lifecycle of a drug—from incubation before drug approval, to extinction when the drug is no longer made and sold.
Shifting CMC to CDMOs
In early-phase development resources can be less accessible—smaller or emerging sponsors may not have the ability to keep a large CMC group. In many cases, CMC activities from pre-IND to Phase 2 are often coordinated by a single support individual within the organization, and these tasks may have to co-exist with other responsibilities. Nevertheless, many of these (frequently virtual) sponsors appoint contract development and manufacturing organizations (CDMOs) to manage the Chemistry, Manufacturing and Controls elements of regulatory applications.
The transference in early drug development from large biopharma companies to smaller firms has also solidified the outsourcing of CMC activities. For smaller pharmaceutical organizations, it behooves to incorporate the expertise of a CDMO when a drug candidate moves into cGMP and CMC phases. As discussed above, one individual within the enterprise may be in charge of GMPs or CMC development, but this person may have limited direct experience in these activities, or may be challenged by the full range of CMC tasks for products in progress, so the partnership with a CDMO is not only advantageous, but necessary.
The Challenges of the CMC Leader at CDMOs
As a CMC leader within a CDMO, you must not underestimate the full extent of the network you have to interact with. While process chemistry, analytical chemistry, and formulations are the groups that first come to mind, CMC extends beyond them.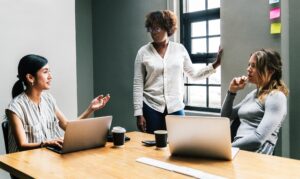 Getting buy-in from upper management is crucial for the success of CMC. Quality and regulatory are other groups with which the CMC leader will interface to file INDs and updates, and stay up-to-date with the regulatory framework. As a CMC leader you may have to deal with toxicology to identify and control impurities, or with discovery, so you can better understand the history of the molecule. So, in your role, you need to build, coordinate, and guide a multi-functional team with varying incentives and priorities. Likewise, you must actively listen to your stakeholders. This may sound like an obvious leadership skill, but it should not be undervalued. Your ability to listen and clearly identify your stakeholders' needs will help you clearly outline how your team can assist.
Active listening is one part of the equation. Explicit, unambiguous communication is the other. In an interview with Outsourced Pharma, CMC director of pharmaceutical sciences at Radius Health, Michael Markey, explains: "In a CDMO, you have to effectively communicate with different functions, and learn to deal head-on with varying priorities. You work with analytical, business development, process development, engineers on a scale-up team, manufacturing, and many others.
"You need to consider yourself a part of this big group attempting to at least reach the common goal – overall project success."
Are You Ready to Lead CMC?
Regardless of your position or level of experience, managing CMC projects requires a concerted effort to cultivate and advance your technical and leadership skills. You don't have to do this all on your own, though. The Division of Pharmacy Professional Development offers a CMC Project Team Leadership course intended to foster the abilities you need to run CMC activities successfully.
Learn More About Our CMC Project Team Leadership Course
References
Drug Development CMC Considerations. (July 9, 2020). News Medical: Life Sciences. Retrieved from https://news-medical.net
Garguilo, L. The Future of CMC Leadership at Radius Health. Outsourced Pharma. Retrieved from https://outsourcedpharma.com
Garguilo, L. Most of What I Know about CMC I Learned at a CDMO. Outsourced Pharma. Retrieved from https://outsourcedpharma.com
Garguilo, L. The Practice of Interdisciplinary CMC. Outsourced Pharma. Retrieved from https://outsourcedpharma.com
Varshney, N. (August 4, 2020). Understanding Chemistry, Manufacturing and Controls (CMC). Avomeen. Retrieved from https://avomeen.com