Helping Patients Help Themselves: The Evolving Role of the Pharmacist in Diabetes Management
On average, a patient sees his primary care physician 3 to 4 times a year, "if we're lucky," according to Starlin Haydon-Greatting, director of clinical programs for the Illinois Pharmacists Association, in the American Journal of Managed Care. In contrast, the local pharmacist sees that same patient 12 to 15 times a year.
Patients not only see their pharmacists more frequently, but the pharmacy is also where many patients obtain all their other over-the-counter medical products. More and more treatment options and diabetes-related devices keep entering the market, and while more choice raises the potential for reaching more patients in need, it also significantly increases the number of questions patients may have. Pharmacists are indispensable in monitoring patient drug therapy, but their role in helping manage diabetes has expanded and become more central to the healthcare team. According to a 2004 article by Subish Palaian and a team of researchers, "[T]he pharmacist can educate the patients about the proper use of medication, screening for drug interactions, explain monitoring devices, and make recommendations for ancillary products and services."
Having more questions is only one side of the issue. Communication barriers may negatively affect the health and safety of patients. Limited literacy skills are one of the strongest predictors of poor health outcomes. The National Assessment of Adult Literacy (NAAL) classified health literacy using four performance levels: below basic, basic, intermediate, and proficient. The NAAL found the majority of adults in the United States (53 percent) had intermediate health literacy. However, it also found 22 percent had basic and 14 percent had below basic health literacy levels. Some of these individuals struggle to use instructions on a prescription drug label to determine what time to take that medication. Because of the stigma associated with low levels of health literacy, individuals become very adept at hiding the problem. As a result, their primary-care physician may not be able to detect misunderstanding or confusion. During their contact, the pharmacist can ensure patients understand and clarify any questions they did not ask their primary care providers.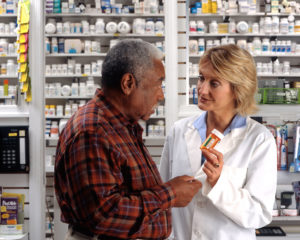 The sheer complexity of diabetes management suggests pharmacists may dispense not only medications, but increasingly more counseling to patients on monitoring devices and insulin pumps. Appropriate care includes clear goals for glycemia, blood pressure and lipid levels. It also includes regular monitoring of eyes and extremities (particularly feet), dietary and lifestyle modifications, self-monitoring of blood glucose, and laboratory assessments. Infrequent contact with primary care providers and the numerous components of diabetes management means the pharmacist must fill in the gaps whenever needed, and keep patients engaged in their own care.
Patients may also feel more comfortable sharing instances of recidivism with their pharmacists. Again, Haydon-Greatting: "You're going along fine, and then your daughter gets married and you eat half the wedding cake that was left over." Self-management for chronic diseases like diabetes isn't a straight arrow, so pharmacists have the responsibility to encourage patients to stay on track, and not feel defeated when they go off course.
Next time you interact with your diabetic customers, keep in mind it is very likely they have questions about how to cope with the disease, and some of these questions may go beyond drug therapy. Your ultimate goal is to help optimize your patients' quality of life.
The Division of Pharmaceutical Professional Development is holding a clinical conference on the health professionals' role in management of the patient with diabetes April 10 and 11, 2019. Included in the two-day program is an update in treatment guidelines, new drug and new insulin treatment options.  We are also excited to be offering six separate small group workshops covering self-monitoring, continuous glucose monitoring among other topics. To learn more and register, please visit Madison Clinical Conference