2018 August Land O' Lakes Conference Recap
The 58th Annual Land O' Lakes Pharmaceutical Analysis Conference began Monday, August 6th, with an opening dinner on the top floor of the Fluno Center overlooking UW-Madison Campus. The conference chair this year was Elizabeth Hewitt, MS, of Takeda Pharmaceutical.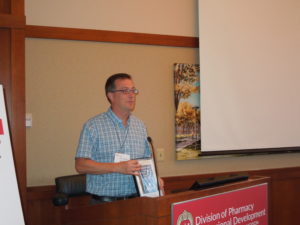 The dinner began with the presentation of the Mel Weinswig Award of Excellence in Pharmaceutical Analysis to Tim Graul, PhD, Associate Research Fellow in Analytical R&D at Pfizer Inc. This award recognizes both professional accomplishments and contributions to the success of this conference. Graul has been recognized as a leader in the area of Quality by Design(QbD) for analytical methods and several of his publications are at the forefront of the industry in this area. He has attended the Analytical Land O'Lakes for many years and loves the conference for its science, fun, and networking. 
The conference coordinator Jim DeMuth also received an award from the Division of Pharmacy Professional Development thanking him for his many years of service running Land O' Lakes programs. This was Jim's last Land O' Lakes conference and we are sad to see him go.
The speaker at dinner was Peter Wunderli, PhD, Associate Director of Biopharmaceuticals at PPD. His talk was titled "Biosimilars-Regulatory Requirements and Control Strategies". He talked about the biosimilar market, the global regulatory landscape, and the development process.
On Tuesday morning, the first session of the conference was "Focusing on Control Strategies." Presentations covered developing a control strategy including examples of PAT and small volume continuous processes. They also looked at the challenges to make "patient-centric" and stage-appropriate specifications for dissolution and impurities.
The afternoon session was "Technology Applications to Deliver Control Strategies." Topics included PAT, High-Resolution LC-MS for impurity identification and automated analytical solutions.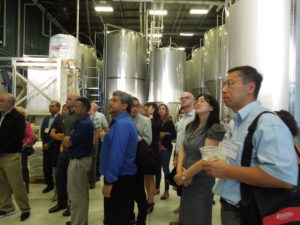 On Tuesday evening attendees visited the Wisconsin Brewing Company. The brewery was established in 2013. It is located in the town of Verona, WI and strives to use local ingredients. Attendees sampled various brews at the outdoor bar and patio in the countryside. They also toured the brewery to learn how hops, malt, and other raw ingredients become beer.  Participants asked many questions about the facility's control strategy. Breweries and pharmaceutical manufacturers have some similar control strategies such as computer automation, sterilization, and cross-contamination prevention. However, some brewery control strategies are very different, most notably the control method of "taste testing". HyVee provided brats and burgers for dinner, which paired nicely with the local beer and provided a genuine "Wisconsin" atmosphere. It was a great opportunity to become better acquainted with colleagues.
Wednesday Morning's Session was "Control Strategies for Complex Drug Products." Speakers covered fixed-dose combo products, drug/device combo, pediatric, complex generics, reference standards, and novel non-chromatographic applications along with several case studies.
The afternoon featured a workshop on CMO/CRO interactions. Small groups were formed to discuss improving interactions with CMOs/CROs. They talked about the need for focus on communication, finding the right CMO/CRO for the project, good partnerships, and resources. Workshops are a great opportunity for working on challenges faced in the industry with many others.
After the workshop, attendees took a trolley tour of UW-Madison campus. The tour included stops at Memorial Union with the obligatory visit to Terrace on Lake Mendota and the historic Bascom Hill.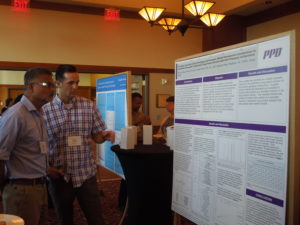 A poster session and reception occurred Wednesday evening after the trolley tour. Many companies displayed their latest work, and attendees had the chance to chat with the presenters while sampling appetizers. It was exciting to see the emerging research being discussed.
The theme for the final session Thursday morning was "Regulatory Considerations for Global Strategies." Speakers talked about justifying global control strategies, elemental impurity controls, post-approval changes from industry and FDA, and a lifecycle management view from regulatory. Ivelisse Colón, PhD, Senior Director of Technical Operations at Vertex Pharmaceuticals presented on "Post Approval Specification Changes/Challenges from an Industrial Perspective." She covered post-approval changes and global control strategies from an industry perspective and went over a few case studies.
Conference chair Elizabeth Hewitt wrapped up the conference with a summary of what was learned:
"Control strategies should be at the forefront of drug development and continue into lifecycle management. The final drug product specification should not be your only control strategy. There will be challenges and new ways of doing things because all products are different and unique. Leverage technology and automation to execute your control strategies. Communicate, communicate, and communicate with your key stakeholders (internal / external) and health authorities to work to optimize your plan to be patient centric."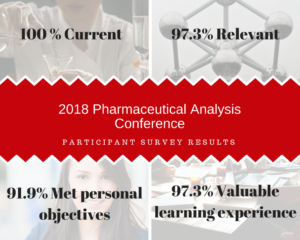 Land O' Lakes conferences rely on attendees for feedback and to choose what they want to cover in the future. Attendees gave very favorable feedback to this year's Pharmaceutical Analysis Conference. Looking to next year, attendees were given a chance to rate their topics of interest and the three most popular topics in consideration are: Global regulatory challenges, Current challenges to pharmaceutical analysis and New Technologies/lab efficiency. We look forward to refining these potential topics for next year.
The dates for next year are August 12th-15th so mark your calendars. We hope to see you there!
We Thank Our Sponsors