Analytical method development, transfer, and validation are key elements of drug development programs.
Effective method development can help optimize laboratory resources. It ensures that methods used to meet the objectives for each stage of drug development. Method transfer is the process of documenting processes. It allows labs to use analytical methods originated in other labs. Method validation is a process used to ensure that the methods used are suitable for the task at hand. 
Unfortunately, these three elements are often ignored. Scientists consider them routine, leading to neglect or poor resources. This course will train you to focus on method, development, transfer, and validation. You will learn how to harness their potential to improve drug development. Method development, transfer, and validation are intertwined. Optimization can lead to continuous improvement and increased efficacy.
The course curriculum begins with method development. It then transitions into validation and transfer. Finally, the course ends with an examination of the whole method life-cycle. Upon completion you will receive tools to apply in your own analytical process.
This course is an elective in the Applied Drug Development Certificate. Take it as is or as part of the certificate. We recommend this course for scientists seeking to improve optimize their method life cycles.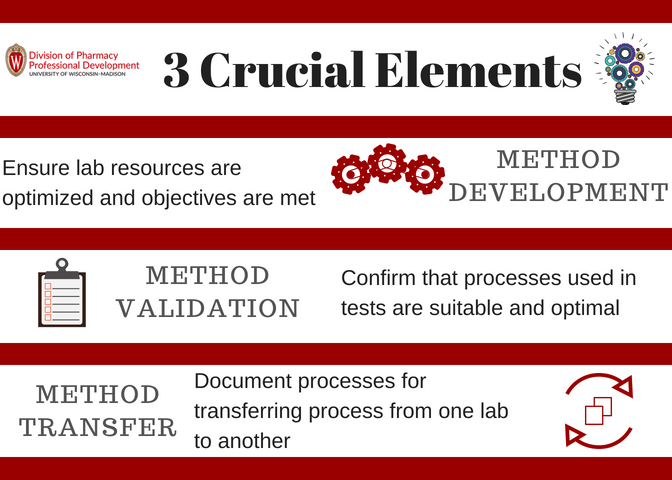 Developed & Conducted by the Division of Pharmacy Professional Development, School of Pharmacy, University of Wisconsin-Madison.